The Best Place To Buy Or Sell Toilet Blocks, Mobile Offices, Portable Cabins
Search
Showing 1 - 6 of 6 items
---
Smart-Space Temporary Retail Showroom, 20m x 10m, portal frame system designed using aluminium box profile, double glazed window panels to 2 sides with double pedestrian access door, steel sheet wall cladding system to 2 sides with roller shutter door access, inflated PVC roof system, LED roof lighting strips, external LED flood lighting, guttering, heating supplied via Biemmedue EC 55DV Indirect Oil Fired Heater (51kW) blown air system. Excellent condition
£50000 +VAT

The unit is in good all round condition. Fitted with adjustable jack legs.
At the rear end there is a separate office area approximately 9' x 9'.
As you can see from the photo, the doors are not full width but around 3/4.
Fitted with a sales counter that can be easily removed if not needed.
The walls have been lined but the roof remains steel. Also this unit has been fitted with some basic electrics including wall plugs, lights and heaters.
32' x 10' lined out anti vandal store.
£2100 +VAT ono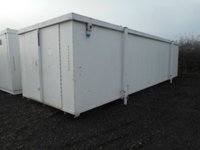 Revolution Semi Permanent Structure, this structure is engineered and manufactured to BS6399 standards for wind and snow loading. New calculation note will be generated once new postcode is known. Structure currently dismantled and in secure storage and available for instant installation. Due to modular design can easily made smaller or larger if required to meet your specific needs. We have additional structures in stock if larger structure required (please see our other listings) Cost of structure is based on current configuration with secondhand cladding, doors, windows and roof membrane, can be reconfigured to your requirements with regard to door, window and cladding location. With addition of new cladding/flashing if required giving the structure a brand new look at approximately 60% cost of new structure. The structure has a suspended floor to ground floor with addition of a mezzanine floor making the structure two storey, these can both be removed to use as high eave storage or sports facility if required.
£80000 +VAT ono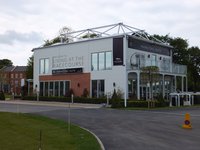 Solid construction with very smart stainless steel detailing and swirly stainless splashbacks. Open Up service hatch with a fold down counter (all stainless). 2 keys available. Twin sinks and under counter storage.

Lovely condition and this item has not seen much use. I bought It 4 months ago but sadly have not had a chance to put it where I planned due to licensing restrictions in my area.

Open To Sensible Offers
Two year old lockable catering / retail kiosk for sale.
£2750 ono VAT Free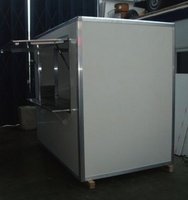 I need to sell it to get a bigger unit for next year. I could sell the unit on its own but thought it would make a great complete business for someone eager to start up straight away. I have other equipment to fill another unit so that isn't a problem for me if I sell this as a going concern.
The unit itself is a strong and well insulated moveable building, it fits easily onto the back of a Hiab lorry as this is how I moved it here. It is light and airy and very warm, I often thought it would make a very cosy home :)
This is my lovely beach cafe. It was formerly an immigration check point which I converted into a great little cafe business.
£20000 ono including VAT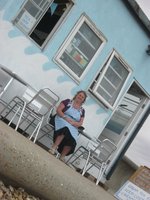 Showing 1 - 6 of 6 items